NACA STRESSES ROLE OF COMMUNITIES IN ENDING HIV/AIDS IN NIGERIA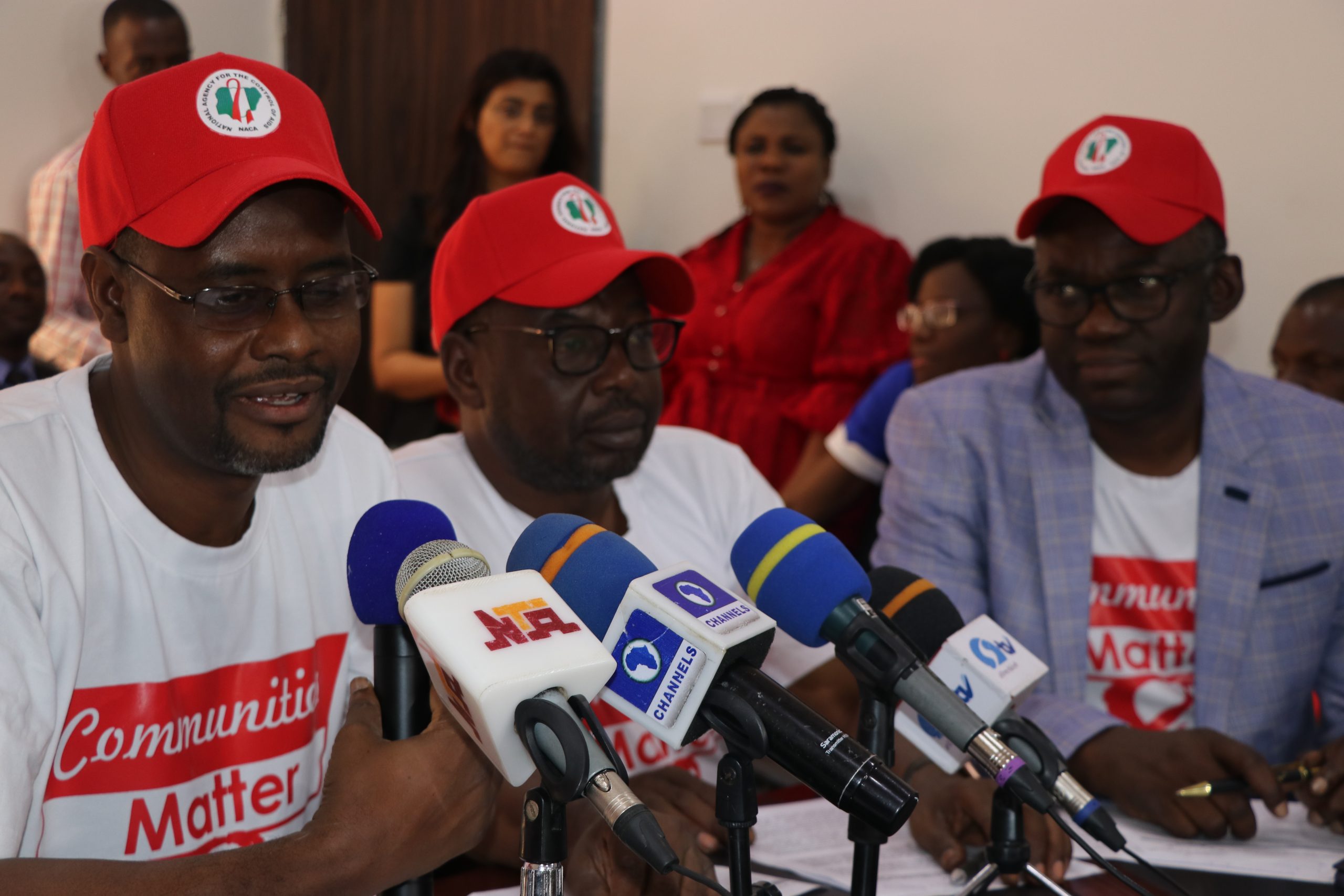 The National Agency for the Control of AIDS (NACA), has reiterated the need to accelerate national HIV response through more vigorous community engagements.
The Director-General of the agency, Dr. Gambo Aliyu, who stated this during a press conference to mark the commencement of 2019 World AIDS Day activities said communities have been playing critical roles in the epidemic control and such efforts need an urgent scale-up to address the reality of shrinking international funding.
Dr Gambo, who gave insights to this year's World AIDS Day theme: Communities Make the Difference, stated, ''this is to recognize the essential role that communities have played and continue to play in the AIDS response at the international, national and local levels.
''Communities include a network of people living with or affected by HIV, women and young people, peer educators, counsellors, community health workers, door-to-door service providers, civil society organisations, religious and traditional leaders, policymakers and activists. Communities have played a significant role in the national response to HIV since its inception and will continue to play a pivotal role until the end of the pandemic.''
He emphasised that efforts of such communities ensure that HIV remains on the political agenda and galvanize international and national funding for HIV. This is due to vital roles such communities play in terms of facilitating an enabling environment that promotes equal access to HIV prevention, treatment and care services for Nigerians; safeguarding the rights of Nigerians living with HIV and holding decision-makers and implementers accountable.
Also speaking, the Senate Committee Chairman on Primary Healthcare and other Communicable Diseases, Senator Chukwuka Utazi, assured Nigerians of renewed commitment to ending HIV epidemic. He said achieving viral suppression safeguards the life of all Nigerians, citing U=U campaign due to be unveiled on November 25.
Senator Utazi described HIV response as '' collective fight'' and promised that the National Assembly would work together with the Federal Ministry of Health and NACA, to take the U=U campaign to all parts of Nigeria, including remote communities, to ensure Nigeria reaches the ambitious UNAIDS 90-90=90 targets.
Chair, House Committee on HIV/AIDS, Tuberculosis and Malaria Control, Honourable Dahiru Sarki also emphasised the need to create more awareness to Nigerians to end new transmission of HIV among the populace. He reiterated Nigeria's commitment to meeting international obligations to multilateral agencies in respect to HIV and other public health concerns.
On his part, UNAIDS Country Director in Nigeria, Dr Erasmus Morah, stressed the need to humanize HIV services by including Key populations, whom he described as vulnerable and very critical to HIV intervention.
He urged the Nigerian government to factor such groups in policymaking, budgeting and ensure they are ''well protected'' to give them unhindered access to HIV and health services.
The UNAID arrowhead summarized three key things about the U=U campaign which are '' treatment as prevention'', ''ARV-based treatment'' and a ''right to quality treatment.''
Representative of the United States government equally stressed the US/Nigerian commitment to end HIV/AIDS in the country. He said that the Nigeria HIV/AIDS Indicator and Impact Survey (NAIIS) data has provided an opportunity for stakeholders to respond to HIV intervention strategically.
He added that the U=U campaign has the potential to reduce stigma and discrimination as well as increased demand creation for HIV services with an ultimate goal of maintaining ''undetectable viral load.''
Also speaking, the National Coordinator of the Network of People Living with AIDS (NEPWHAN), Abdulkadir Ibrahim called on the government to ensure prompt payment of government counterpart funding to the Global Fund (GF), accelerate efforts to launch the HIV/AIDS Trust Fund as part of the sustainability strategies and empower the patient community to complement government efforts, among other requests.