FACT SHEET: Prevention of Mother to Child Transmission (PMTCT), 2016
BACKGROUND
MTCT accounts for 90% of HIV infections in children
Nigeria has the highest number of new HIV infections among children (UNAIDS, 2013)
The PMTCT program started in Nigeria in 2001 in 6 tertiary health facilities
Goal of the program is to contribute to the reduction of incidence of HIV/AIDS
The estimated number of pregnant women in the country in 2015 was 6,258,277 (Nigeria Spectrum estimates,2016)
Estimated number of HIV positive pregnant women in Nigeria in 2015 is 177,993(Nigeria Spectrum estimates,2016)
PMTCT STRATEGIES FOR NIGERIA
Demand creation for PMTCT
Decentralization of services to primary care level
Greater private sector involvement in PMTCT service delivery
Community engagement
Integration of PMTCT with other Reproductive Health services including Family Planning
Access to Early Infant Diagnosis (EID) for children of HIV positive mothers
NATIONAL PMTCT TARGETS
At least 80% of pregnant women have access to quality HIV testing and counseling by 2015
At least 80% of all HIV positive pregnant women and HIV exposed infants have access to more efficacious ARV prophylaxis by 2015.
At least 80% of all HIV exposed infants have access to ARV prophylaxis by 2015.
At least 80% of HIV positive pregnant women have access to quality infant feeding counseling
At least 80% of all HIV exposed infants have access to EID services
 Source: National Strategic Plan 2010-2015
Number of health facilities offering PMTCT services- 7265
Number of first ANC visits by pregnant women – 2,849,867 (representing 46% coverage of the estimated no of pregnant women in 2015)
Number of pregnant women who were tested for HIV and received results during pregnancy, labour and delivery and post partum period including those with previouly known HIV status – 2,780,867 (representing 45% coverage of the estimated no of pregnant women in 2015)
Number of pregnant women who tested positive including previously known positives – 75,855 (42.6% of the estimated number of HIV positive pregnant women in 2015)
Number of HIV positive pregnant women who received ARVs to reduce the risk of mother to child transmission- 53,677 (representing 70.8% of the 75,885 HIV positive women identified in 2015 but 30% of the estimated 177,683 HIV positive pregnant women in 2015)
Data from the states showed that only one state (Ebonyi) achieved greater than 80% coverage for HCT in PMTCT. 3 states achieved greater than 70% while 4 other states achieved greater than 50% coverage.
The number of babies born to HIV positive women who had a PCR done within 2 months of birth- 15,897 (29.6% of the 53,677 women who received ARV)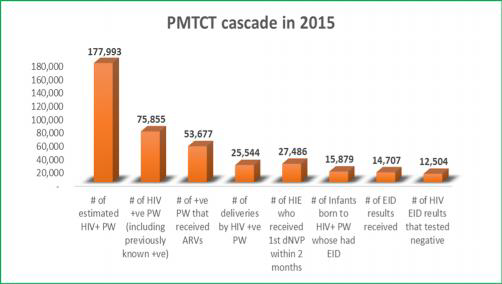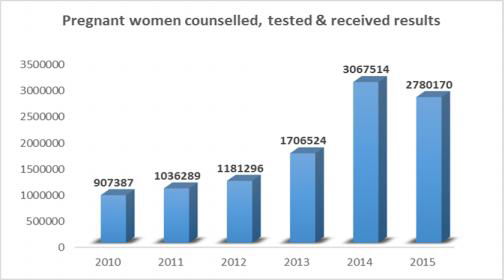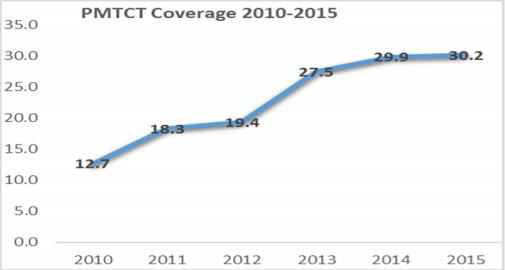 Gaps and challenges
Funding gaps/dwindling donor funding

Poor ownership of PMTCT programmes at all levels

Even though attendance at ANC by pregnant women has improved (46% in 2015) PMTCT is still hugely concentrated in the public health facilities

Even in states where HCT coverage was high it was not accompanied with similar high coverage for those who received ARV. This can be attributed to weak referrals system, linkages and follow up of positive pregnant women.

Inadequate coverage of EID services.

Industrial strikes by health workers in most part of the year also contributed to low coverage recorded in 2015.
Conclusion
Improved ownership and government funding of PMTCT programmes at all levels.

Increase the involvement of the private sector in PMTCT program. Already NACA has concluded plans to pilot a performance based funding HCT for PMTCT program for 390 private health facilities in the 12 plus one states. Also in two states of Abia and Taraba respectively the FGN through NACA is providing funding to engage actively with traditional birth attendants (TBAs) to boost PMTCT program in the two states.

Strengthen the provision of early infant diagnosis services (EID)

Improvement in supply chain and logistics including strengthening the referral system and linkages for PMTCT.